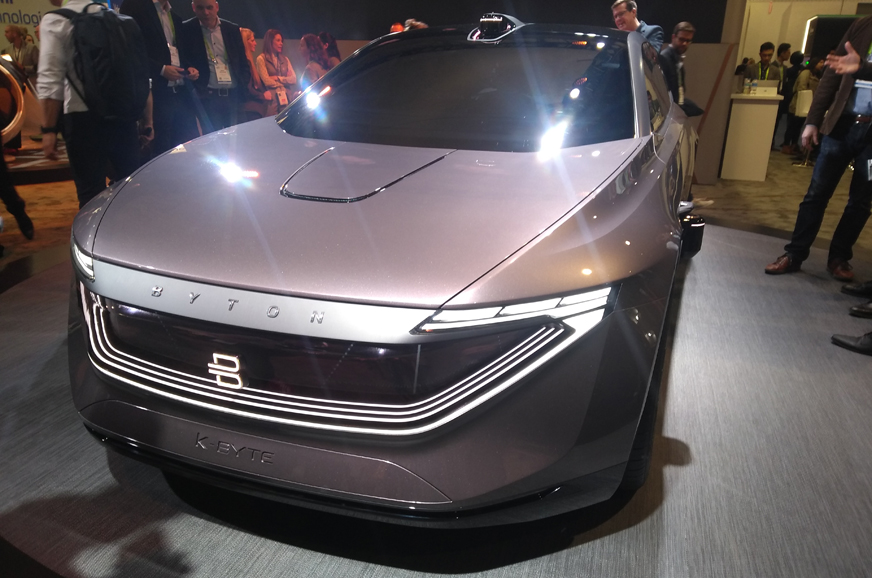 11th Jan 2019 12:44 pm
The brand has revealed the interiors of its new SUV for the first time (stays true to the concept) and revealed powertrain details.
Ahead of an international launch later in the year, Byton has showcased its new M-Byte SUV at the ongoing Consumer Electronics Show in Las Vegas, where it also revealed the interiors of the all-electric SUV for the first time.
The near-final design of the interiors shows an evolved version of the wraparound digital dashboard and steering-wheel-mounted touchscreen seen in the original concept.
The 48-inch curved 'Shared Experience Display' will meet crash test regulations as it has been reinforced to resist shattering in the event of an accident. An 8.0-inch touchscreen display in the centre console will allow front occupants to control the main screen, which is split into three sections for driver information, navigation and multimedia playback. The display will also show images from three rear-facing cameras – two replace of the wing mirrors, while a third is mounted in the car's rear. The brightness and background colour of the display adjusts automatically to suit lighting conditions. Two further screens are fitted to the front seats for rear passengers.
The 7.0-inch touchscreen in the steering wheel sits slightly upward from the centre to make room for an airbag. Selecting a gear is done through physical buttons on the wheel, rather than with a traditional gearstick. Other physical buttons will be used only when legally required, such as for activating hazard lights. For voice recognition, Byton has partnering with Amazon to integrate the Alexa voice assistant. Facial recognition has also been promised in order to identify the driver and load specific profiles.
The Byton M-Btye will also feature a first for any production car – inward-rotating seats when in autonomous mode. The company plans to support level three autonomous driving at launch.
The firm has also revealed more details about the car's powertrain. The M-Byte's power will be stored in modular lithium-ion batteries that form part of the vehicle chassis. Two battery capacities are said to be on offer – a 71kWh and a 95kWh. Byton says the SUV will have a range of 400km, increasing to 520km with the larger battery pack. There will also be two drive layouts on offer including a twin-motor four-wheel drive system with 475hp.
Two more models based on the same platform will follow the M-Byte SUV including a sedan that was previewed as a concept in June 2018 and an MPV.
Initial prototypes of the SUV have been completed at Byton's factory in Nanjing, China, with a small batch subsequently built for crash tests and development prototyping. These prototypes have taken to closed test tracks and open public roads in China and the US, with production mooted in 2019.