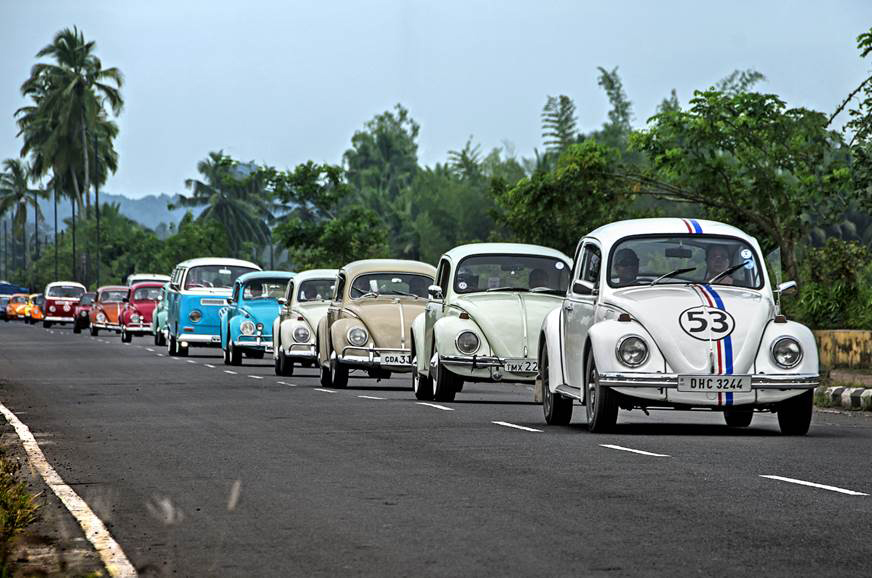 14th Nov 2018 12:43 pm
A fun-filled event that turns back time with over 50 classic Volkswagens taking to Goa's roads.
Volkswagen has made some of the world's most recognisable and beloved cars. Immensely popular for their distinctive shapes, proven mechanicals and easy-to-own nature, they literally became (as the German automaker's name suggests) 'Volkswagen' – the 'people's car.' And to celebrate this universal love for the brand, the VolksWeekend 2018 was put together.
Held on November 3 and 4, 2018, VolksWeekend was India's largest gathering of classic Volkswagens with over 50 models of various shapes and vintages in attendance. The event 'VolksWeekend' was conceived by Folks India – the largest classic VW club in India – whose aim was to create a community where classic Volkswagen owners can come together and share their passion for their prized possessions. Volkswagen and Autocar India partnered in organising this year's event, and it was one that did its bit for the classic car movement in India.
A LONG DRIVE
The passion was quite evident as these classic Volkswagens were driven in for the event from far and wide. Dr Binoy Basheer, who drove all the way from Trivandrum, covered a distance of nearly 1,300km in his 1969 Beetle without a hitch. Dhananjay Badamikar drove from Pune in his unique 1939 Volkswagen Tempo army car.
Siddhart Khona drove his 1974 Super Beetle from Mumbai and completed the return journey in under 12 hours. Anoop Thakur is an ace Beetle restorer who has restored dozens of Volkswagens over the years. He drove down with a bunch of Mumbaikars, including Manoj Batra in his 1971 Super Beetle, Hassan Husseini in his 1975 Beetle convertible, Sangram Shirke, who brought his 1978 Microbus and 1963 Beetle, and Gaurav Gohil who drove a turquoise 1961 Beetle.
Bengalurians Byas Nambisan, BK Srinivas Gowda, Ravi Narayanan, GB Ravichandra, Jeevan Joy and Ryan Oberoi all drove down to the event in their Volkswagens, too.
Driving all the way from Hyderabad was Gautam Birudavolu in his green Type 2 Westfalia van, while Chennaiite Durai Mohan V drove in with his very eye-catching blue-and-silver 1965 Beetle. That fact that so many cars were driven over such long distances for a classic car event is very unique for India and is a testament to the reliability of these classic machines.
A BUG'S LIFE
Understandably, the Beetles formed the largest contingent at the event with many fine examples of various editions and vintages. Each of them were immaculately maintained, like Sameer Kadam's yellow-and-white 1957 Beetle convertible and GB Ravichandra's peach 1968 Beetle whom he lovingly calls 'Alice'. Byas Nambisan caught the bug as a young man when his father purchased a 1971 1302LS convertible. Since then, he has worked passionately to keep it up and running in its original specification. A VWphile to the core, Byas is always ready with technical assistance for all group members. 
Some preferred to give their Beetle an identity of its own, like National Racing Champion, Arjun Balu and his brother Sanjay who drove all the way from Coimbatore; they wanted their Beetle sporty so they bore-out the engine to 1,641cc, added a lot of tech upgrades and Recaro seats, making it one of the fastest Beetles around. Alternatively, Ravi Narayanan channelled his love for Herbie, from the cult movie, and mimicked the paint scheme of the much-loved 1963 car.
Viveck Goenka showcased five unique and rare Volkswagens – a brown 1952 Beetle, a 1945 cream-coloured Kubelwagen, a 1969 Type 181/Kurierwagen (also known as the 'Thing' in the US), along with two more examples of the Beetle. A great patron of the classic car movement, each of his cars is meticulously restored to its original specs. In fact, Goenka's 1952 model is believed to be the oldest running example of the Beetle in India with a unique split-window design at the rear. Fitted with period-accurate upholstery and other accessories – like a 6V coffee maker and an extremely rare Philips under-dash radio – it was one of the stars of the show.
There was a heart-warming moment when Allan Almeida from Mumbai got a chance to reunite his uncle Viveck Goenka's cream-colored, oval-headlamp 1956 Beetle with the original owner of the car – an 85-year-old lady from Goa who grew nostalgic at the sight of the car she used to drop her kids to school in.
A RARE BREED
The presence of two Volkswagen Karmann Ghia models was a very rare sight indeed – a yellow, 1968 Type 14 coupé owned by Navin Patil, who drove down from Belgaum; and an even more unique red, 1967 Type 34 coupé belonging to Srinivas Thakur who brought his car from Pune. Jeevan Joy's one-of-a-kind Blue Squareback model was also quite the looker.
MICROBUS BRIGADE
Interestingly, the event saw the presence of 10 microbuses covering each of the five generations of the vehicle. The unmistakable VW Type 2 Microbus filled the ranks nicely, considering the number of fine examples on display. Ryan Oberoi's 1967 Microbus was a crowd favourite with its shocking-yellow-and-white colour scheme, replete with a unique split-front windscreen and Porsche-Fuchs wheels. Topped off with a surfboard and hula dancer figurine on the dash, it did very well as a '70s Hawaiian beach wagon. Another standout was Sangram Shirke's green 1978 Microbus made by Camper specialists Westfalia and came with a bay window and camping gear inside. Srinivas Gowda from Bengaluru fast-forwarded the restoration process of his blue 1970 VW Kombi – which included a full paint job, reupholstery and mechanical work – in 25 days flat to make it in time for VolksWeekend. Also, part of the Microbus brigade was Gautam Birudavolu with his green, mint-condition, Type 2 Westfalia bus.
THE HOME TEAM
A large Goan contingent was present at the VolksWeekend too, proudly showcasing their prized Volkswagens at the event. In fact, Goa has a very rich history when it comes to Volkswagens. The models were very successful here during the '50s and '60s during the pre-liberation era. Dilip Shetye's black Beetle was bought by his father from a dealer in Goa and has been in his family ever since. Hanosh Mascharenhas owns a red 1961 Beetle and grew up with Volkswagens in his family in Goa. He says that his father used to drive one to work in the mines daily. Ryan Braganza entered four different cars into the event, including a 1973 bay window van and a 1973 Beetle. He restores his Volkswagens himself and cites working on them as a labour of love. Bryan Soares, also from Goa, showcased his 1959 orange Beetle that featured semaphores – turn signals that flipped out from the doorposts of the car. A unique Kansas beige, Volkswagen Notch 1600L belonging to the Barbosa family celebrated 50 years of ownership since its original purchase in Uganda, Africa, after which it was then shipped to Goa. Used as a daily driver for many years, it ran almost 100km a day. Angelo Dias brought in his rare 1966 maroon-and-white Kombi van with split windows up front and sliding doors at the side. Pradeep Naik, Goan classic car collector and owner of Ashvek Vintage World, brought in the Goan spirit with his a one-of-its-kind stretched Beetle limousine that bears the artwork of famous Goan artist Mario Miranda. This 'art car' proved to be quite a draw with visitors who clicked many pictures with it. Other notable mentions from Goa include Mr Kamat and his yellow 1969 Beetle, Dheep Caldeira and his red 1980 Golf and John Jacob, who brought a rare Golf CL2 Wagon.
FROM PARRA TO PANAJI
Day one of the VolksWeekend saw these classic Volkswagens line up at the sprawling Emerald Lawns in the village of Parra, North Goa, for a classic rally organised by Autocar India. Here, Viveck Goenka and his wife Zita Goenka showcased and unveiled their immaculate 1952 Volkswagen Beetle for the first time. The rally was then flagged off by Deepak Narvekar from the Goa Tourism Department and Viveck Goenka. The classic cars traversed a picturesque stretch of road to the neighbouring village of Saligao, with the rice paddy fields and the Monte de Guirim hill in the distance forming the perfect backdrop. All along the way, locals and tourists alike honked their approval and joy at the sight of these classic VWs. The day culminated with participants assembling for an appreciation ceremony where they all received certificates.
Day two, Sunday, saw Folks India organise a display of these beauties at the Panaji Gymkahana, in Goa's capital city. Jaspal Singh, IGP, Goa Police then flagged the cars for a rally showcase through the streets of Panaji. The contingent then made its way from Campal, drove alongside the beautiful promenade off Mandovi river, to Adil Shah's Palace onto Miramar beach and back. Open to the public, the event attracted large numbers who came witness these grand German beauties; and many among the crowd left feeling very nostalgic seeing classic Volkswagen cars on Goan roads, once again.
Now, in its second year, the event also stayed true to its philosophy of being a community of Volkswagen owners. Besides all the fun and frolic, Folks India organised a unique 'jumble sale' where participants and owners exchanged/sold rare parts and accessories with each other, further strengthening ties of this fraternity.
VolksWeekend 2018 was a celebration of one of the world's most-loved automaker and its iconic models. Given the turnout – of cars, owners, enthusiasts and visitors, alike – India's largest gathering of classic Volkswagens truly was an affair to remember
Also see: