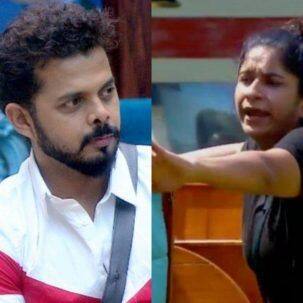 Today's episode starts with Salman watching Surbhi and Rohit's behaviour with the other members of the house. Salman says that he will show them what Weekend Ka vaar is as people come there to gain fame and respect. Salman greets the audience. Salman reminds all that this weekend is extra special as no one was eliminated but this time two people will be eliminated. He briefs about whatever happened in the house during the week. He talks about the nominations given by all the members for the two members to be sent to jail. All mostly nominate Rohit firstly. Biss Boss gives right to Surbhi being the captain to choose any three members for sending them to jail. She nominates Deepak, Romil and Deepak. Sreesanth gets angry. He goes into the washroom and refuses to go to the jail. Surbhi tries to make him understand. But Sreesanth again says that he wants to go out from the show. Dipika tries to make him calm but Sreesanth keeps on saying that he wants to go out. Later Sreesanth says that it s just a drama that he is doing. Later Sreesanth goes into the jail. Sreesanth calls everyone out there as 'Bekaar'. Romil tries to fuel Sreesanth. Deepak and Romil make fun of him.
Salman interacts with the housemates. There is a big cage. Salman asks Romil, Sreesanth and Deepak to go into the cage. Salman questions Surbhi about not nominating Sreesanth as Rohit had got maximum votes for going into the jail. He also asks all to be in their limits. He also fires Surbhi as TRP of Bigg Boss is getting down with behaviour all have in the house. Surbhi tries to explain but Salman scolds her for insulting Sreesanth to the lowest level so she irritates all with her behaviour. He says that Surbhi has two faces, one when she is in the house and when she comes in front of him. He says that she and Rohit should have been in the jail. Rest of the members feel relaxed for that. Salman gives the example of his career starting. He also scolds Rohit for fueling others. He also fires Rohit for humiliating Dipika who is a dignified person in his family. Rohit gets scolded for just keeping on fueling members specially Sreesanth for making him realized for what he has gone through. Sreesanth gets very emotional. Salman takes Sreesanth's side. Salman also tells Sreesanth that he is behaving in such a way that they are not able to show it on the TV. Later Salman takes class of all those members who behaved inappropriately. Surbhi gets emotional as she says that Sreesanth has also abused her badly. He asks all why they all indulge in abusing, fighting which cannot be the entertainment. Later Surbhi gets upset as she feels that Bigg Boss is partial with her as Sreesanth and Dipika are celebrities.
Salman reminds all that Bigg Boss had highlighted that all are acquiring each other's bad qualities. Jasleen and Megha share their opinions that the house has lost its happiness. He also shares a video where Somi and Jasleen fighting with a loud voice. He asks them both for the explanation for their behaviour. He also fires Sreesanth, Romil and KV for being physical and trying to harm each other and for the rest of the members for being aggressive while performing the task. Dipika tries to explain what happened when she had some issue with Deepak with the task. Salman discusses about the plan of his team for the school bus task. He also fires KV, Rohit and Surbhi for cheating with Deepak. He asks all to control their emotional as Bigg Boss as a game. He feels that no one in the house has humour. There is a clip shown which was shown onVOOT but not on TV which had serious and bad reactions where KV, Surbhi and Rohit played with some ladies inner wears and KV posing with them. He informs all specially about to KV, Surbhi and Rohit. He tells them that the viewers are very much upset with that scene when they tried to give humour. KV apologizes to him, even Rohit and Surbhi. But Salman moves on to the Appy Fizz caller of the week. She asks question to Romil about his weird behaviour while being the Sanchalak for the captaincy task.
Finally Salman informs that two members will be eliminated this week but it will be done tomorrow. Stay tuned for the updates to Bollywood Life.