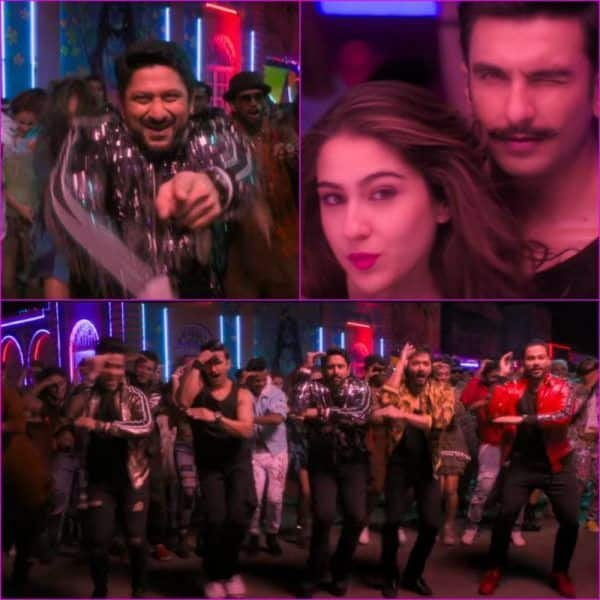 As we set out to watch Simmba's new song Aankh Marey thinking it would be just another 90s remix track, something in the song made us realise we were totally wrong. Ranveer Singh and Sara Ali Khan looked great but it was the addition of the Golmaal gang that left us in complete awe of the song. Aankh marey original was sung by Kumar Sanu and Kavita Krishnamurthy and was picturised on Arshad Warsi and Simran in Tere Mere Sapne (1996). So, when Shreyas Talpade says Kumar Sanu ki awaaz mei and Warsi appears, we couldn't help but whistle. You see, love for originals can never be diluted by any kind of remixes. Here, Mika Singh has sung it along with Neha Kakkar. It is re-created and programmed by Tanishk Bagchi. Check out the song here… Do look out for Karan Johar's cameo.
We told you how Rohit Shetty, the director of the film, revealed at the trailer launch that there is another special appearance and that is by a filmmaker who also dabbles in acting. Well, we are talking about none other than Karan Johar. A journalist asked Ranveer how he felt after shooting with Ajay and the Golmaal team and the actor said that he would want to keep that a secret as he would like people to watch it for themselves instead. And then suddenly he appreciated Karan Johar's presence in the film. Now you are aware that Simmba is backed by both Shetty and Johar. But it isn't his role as a producer that Ranveer was hinting at. Rohit Shetty had revealed that Karan Johar too is part of the song along with the Golmaal cast. Do tell us how did you like Karan Johar's cameo.
BL Says:
It's the end which makes this song worth a watch again and again!