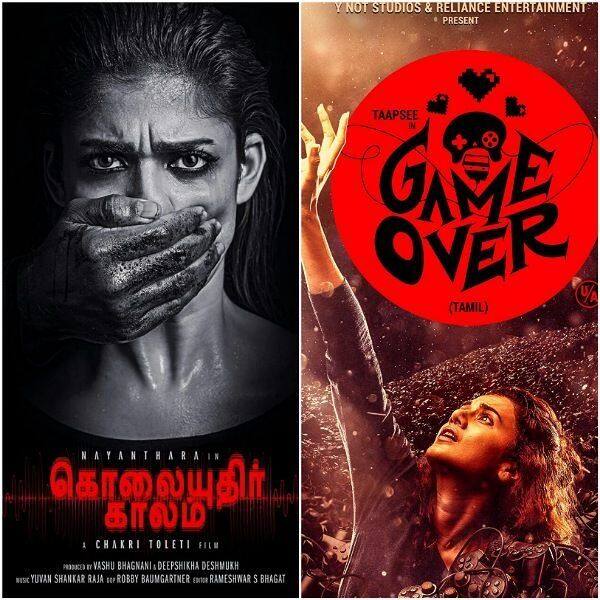 It's going to be an interesting week at the movies for South Indian movie buffs as some quite a few interesting films line up to hit the large screens. In Tamil, Nayanthara-starrer Kolayuthir Kaalam is gearing up for release and fans of the lady superstar are super excited about it. Also, Taapsee is back in action with Game Over which is touted to be a horror-thriller. Game Over will be a multi-lingual release in Tamil, Telugu and Hindi. In Telugu, Nandita Raj's Viswamitra will hit the screens this week and the film is touted to be a thriller. From Taapsee-starrer Game Over to Nayanthara's Kolayuthir Kaalam, here's the list of releases this week:
Game Over:
Director: Aswin Saravanan
Star cast: Taapsee Pannu, Ramya Subramanian, Anish Kuruvilla
Synopsis: Game Over is touted to be a horror-thriller and the trailer of the film has set the tone. Taapsee's act has drawn great attention and has gotten movie buffs excited about the project. Watch the trailer of Game Over here if you haven't already:
Kolayuthir Kaalam:
Director: Chakri Toleti
Synopsis: Nayanthara plays a speech disabled person in this thriller and finds herself in a unique situation. How she comes out the of the tangle andbsaves herself is the crux of the story. The mystery unfolds this Friday and the lady superstar's fans cannot wait for it.
#KolayuthirKaalam is the fourth release of #Nayanthara this year (four releases in six months). Film to hit the screens on June 14. pic.twitter.com/LJb0nh1mcl

— Rajasekar (@sekartweets) June 10, 2019
Nenjamundu Nermaiyundu Odu Raja:
Director: Karthik Venugopal
Star cast: Shirin Kanchwala, Rio Raj, RJ Vigneshkanth
Synopsis: Touted to a romantic comedy entertainer, this film stars newcomers and is directed by debutante Karthik Venugopal. The trailer of the film has managed to catch the attention of young cine goers and seems to be an interesting watch. Nenjamundu Nermaiyundu Odu Raja is slated to be released on June 14.
#NenjamunduNermaiyunduOduRaja is all set to release on this Friday#NNORFromJune14 #4DaysForNNOR @SKProdOffl @Siva_Kartikeyan pic.twitter.com/QFbyoFrFxg

— Sathish Kumar M (@sathishmsk) June 10, 2019
Viswamitra:
Director: Raj Kiran
Star cast: Nandita Raj, Satyam Rajesh
Synopsis: Viswamitra is said to be based on real incidents which took place in New Zealand and the US. The story is said to be revolving around a woman who is averse to men played by Nandita Raj while Satyam Rajesh plays a crucial role.
Most romantic track #NaaloNenuLenu Lyrical song out now from movie #Viswamitra
Singer ► #SwethaMohan Lyrics ► #Srijo
Music► #AnupRubens, Director: #RaajaKiran
Click here to watch ► https://t.co/Ma7yOqbwvl

— Mango Music (@MangoMusicLabel) June 10, 2019
Follow us at @bollywood_life for your daily dosage of entertainment news!